BEAUTY BEFORE AGE
R619.45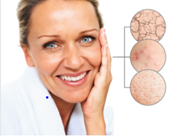 Reverse environmental damage and premature aging skin.
Beauty & collagen induction spray and for many more skin conditions. See description below.
Description
This product is suitable for reversing environmental damage and premature aging skin.
• Boost collagen and elastin production
• Unblocking pores
• Rebalancing the skin PH
• Reducing inflammation & pigmentation marks
• Normalizing the function of the melanocytes
• Sunburn
• Psoriasis
• Dermatitis
• Eczema
• Acne
• Cold sores
• Improves the skin texture
Direction to use:
Spray twice (or as required) on clean skin, open wound.
Allow to air dry and apply serum and/or moisturizer.
Available: 200ml / 250 ppm (part per million)

WHAT IS PURE (HOCL) HYPOCLOROUS ACID?
HOCL is a naturally produced oxidant by the white blood cells, in the human body.
The process is called respiratory burst, whereby pathogen is destroyed on contact
A schematic representation of hypochlorous acid (HOCl) production during the oxidative burst process. During this, cells utilize O2 and convert it to hydrogen peroxide (H2O2) using a mitochondrial-membrane-bound enzyme NADPHase. Then, myeloperoxidase catalyzes the reaction between H2O2 and CI' to generate HOCl. As deregulations take place, the lumen of the phagosome progressively becomes more acidic and leaves the bacterium within a vacuole (phagolysosome) containing MPOse and H2O2 in a medium containing 0.1 M CI' at estimated pH 4 to 6. During this process, conditions are optimal for MPOse-catalyzed generation of HOCl as depicted in this figure.
This product is registered with SAHPRA as a medical device.
Holds GRAS (Generally Recognized As Safe) recognition from FDA.